I got doored by a guy getting out of a livery cab a couple of months ago. The cab was in the traveling lane, stopped at a stop light.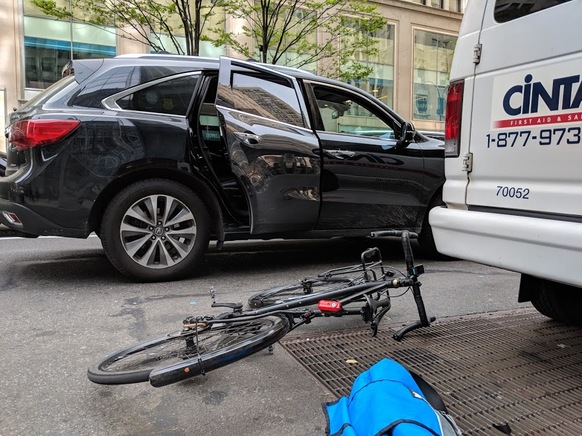 I was super-lucky: I only had some bruised ribs. Apparently, my front wheel took the brunt of the force, but I was ejected from my bike and hit the parked Ford E-Series van with my torso. Nevertheless, I decided to go to the ER to make sure I didn't have a broken rib in danger of puncturing a lung.
In New York, the following laws come into play:
VTL §1214: "No person shall open the door of a motor vehicle on the side available to moving traffic unless and until it is reasonably safe to do so, and can be done without interfering with the movement of other traffic."
NYCRR §4-11-(c): "Taxis… while engaged in picking up or discharging passengers must be within 12 inches of the curb or parallel thereto".
NYCRR §4-12-(c): " No person shall get out of any vehicle from the side facing on the traveled part of the street in such manner as to interfere with the right of the operator of an approaching vehicle or a bicycle."
Of course, the driver was not cited with any of these violations by the responding officer because the NYPD doesn't give a shit about cyclists or pedestrians.
Here are the costs that have been involved.
My health insurance has a 10% copay on emergency services. I had already met my deductible for the year prior to the incident.
| Item | Base Price | Discounted Price | I Pay |
| --- | --- | --- | --- |
| FDNY Ambulance Transport | $775 | $775 | $78 |
| FDNY Ambulance Mileage | $11 | $11 | $1 |
| ER Doctor | $215 | $201 | $20 |
| ER "Ancilary Services" | $6604 | $5052 | $505 |
| Radiologist | $61 | $10 | $1 |
| Radiology - Chest | $65 | $23 | $2 |
| | $7731 | $6072 | $607 |
The "ER Ancilary Services" was broken out by the hospital on a bill to me, but strangely, the totals don't add up except for the amount I had to pay:
| Item | Base Price |
| --- | --- |
| X-RAY | $549 |
| X-RAY Chest | $489 |
| ER | $4985 |
| | $6023 |
The ER visit at NYU Langone was pleasant: the doctors, nurses, and radiologists were all very nice. I had to wait around a while and they eventually forgot to release me, but otherwise it was fine. It was sad to sit and listen to all of the people who use the ER as their primary care facility or who are hypochondriacs.
It took a surprisingly long time to recover, around 4-6 weeks. I likely aggravated the injury by returning to overhead and bench pressing too soon. Since I was still a little miffed about cycling in New York, I took up running.
I incurred the following non-medical expenses:
I had to have a new front wheel built. I went to Sid's who wanted to charge me $267, which I negotiated down to $227 after realizing they threw out my perfectly good tire. Later, I realized they didn't line the rim with rim tape, which I had to do for an additional couple of dollars.
I decided to buy a front-facing camera, since my GoPro was not operational that day.
A strap on the bag on my front rack got torn off, but the bag has a lifetime warranty, so I'm just out some shipping costs.
The front rack eyelet for my dynamo-powered headlight got damaged and eventually fell off. I took the rack off after deciding that using a rack bag on a is not advantageous compared to a backpack for my (very narrow) use-case, despite enjoying the lack of sweat on my back after commuting.
Things I would do differently:
Ride even more defensively than I usually do to avoid the accident. I definitely should have been travelling at a lower rate of speed and shouldn't pass stopped cars on the passenger side.
Have someone take a picture of the driver's license and insurance information.
File a complaint at the TLC with the video of the dooring.
Pre-emptively file a claim against the driver's no-fault car insurance, even before getting billed.
Sue someone in small claims court. It would be an educational experience, but I'd also have to take time off from work for it.
Walk myself to an urgent care center instead of taking an ambulance ride to an ER, unless I were massively hemorrhaging.
Not get a wheel built at Sid's.