I had the fine fortune of attending Gophercon 2015, a conference to celebrate my current favorite programming language, in Denver and extending my trip to check out nearby Boulder for the weekend.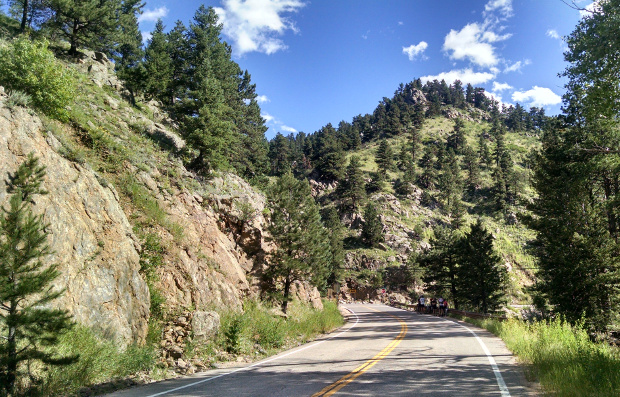 I've wanted to visit Boulder ever since I visited Portland several years ago. Boulder, Portland, and Austin are always compared against each other, and I fell in love with Portland when I was there. They have a strong cycling scene, a great brewery scene, and an equally great coffee scene, not to mention a weird culture that produces new and interesting things. My favorite t-shirt said, "Portland - Where young people go to retire."
But the Pacific Northwest weather put me off. I managed to visit Portland twice during their annual week of beautiful sunshine, but the rain and dreariness of the region is well-known.
Boulder also hits the trifecta: good coffee, great beer, and even greater cycling. But it also has much better weather than New York and even Portland: there are 300 sunny days a year here, the summers aren't humid, and the snow rarely piles up. Sign me up.
Did I mention the cycling? Boulder is nestled right against the Rocky Mountains, which makes for some phenomenal climbs and vistas. The possibilities for interesting rides are endless and the climate in the mountains is consistently cool. I only got to explore a subset of the roads around here, and from what I hear, the mountain biking and hiking trails are even better. Cycling within the city is excellent, with wide bike lanes and very courteous, slow-moving, sparse traffic. There are dedicated multiple-use paths, and even the Fourmile Canyon climb can be accomplished even by an amateur.
Boulder has a long pedestrian mall lined with mostly unique but also some chain shops and eateries. It reminded me of Charlottesville, VA. The street buskers were very diverse, from a chorus of xylophones to flame jugglers, and worth watching. The town is very sleepy: there are very few people out early, and the streets are almost void of moving cars then. (Maybe they're all out in the hills getting an early ride in).
Let's talk about friendliness. This is my first time in the midwest, and man was I blown away by everyone's friendliness. It's tough finding locals, since everyone is a transplant, but both camps were always super friendly and were willing to talk about their lives and background and hand out recommendations. This is in such contrast to New Yorkers…
I like this place so much that I could see myself living here. The advantages over New York are clear, we'd just have to figure out employment and housing.
To provide a balanced report, I present some complaints. First, most breweries here have not embraced the brewpub concept; they rely on food trucks for accompaniments to their beer. Also, the mosquitos can be crazy after sunset, and there are biting flies in the hills that would not stop following me.
I have a lot more pictures of Boulder and Golden.
Here's a list and short description of some of the places I went, in no particular order.
Denver Eats
The Kitchen - I ate here with Benny and one of his colleagues. This farm-to-table restaurant group has a small number of outposts in Colorado and Chicago. The food was well thought-out and very fresh. I'd definitely recommend going back to any of their locations.
Rioja - I was super-happy that Dave mentioned his friends were going here, but I couldn't join them that night. The chef is a 2013 James Beard Award winner. I dined here alone and really enjoyed myself: I had the best citrus salad I've ever had (with avocado, which I would never think to pair with citrus!) and the "vegetable foursquare", a medley of four separate vegetable dishes, was on point. The wine list was excellent. Go at all costs, and order a good bottle of wine.
Lowdown Brewery - I had some time to kill before a conference meetup, and this was the closest brewery. Comparably unremarkable, but the Dirty Shame strong ale was good.
Santiago's Mexican Restaurant - Benny and I stopped here for some breakfast burritos at the start of our Lookout Hill ride. I really liked their breakfast burritos, ordered in medium spiciness (colloquially referred to as a half & half): they were small enough that two (or three!) is a good order. The coffee comes in buckets, and a small coffee is enough for a couple of days of caffeine high. Benny may advise to avoid these burritos before a bike ride, but they definitely propelled me for over 50 miles.
Denver Beer Company - I went here straight from checking into my hotel, and took advantage of their wifi. Have the Tandem Double and their extremely popular Graham Cracker Porter. Do as I did: sit at the right hand side of the bar to allow the soft pretzel smell to waft over, and then order one with mustard.
Breckenridge Colorado Craft - Don't bother coming here unless you need to be near the baseball field for some reason. At some point, this was a Breckenridge Brewery outpost, but now it is just a generic beer bar. The staff was super-friendly and entertaining, though.
Black Shirt Brewing - Come here at all costs. I would invest in this brewery if I could: all of their beers were amazing and they could become huge. The brewery centers around red ales, but distinctly not of the Flemish variety: the brews they make use the same yeast structure to produce really interesting, complex beers that they describe with the standard monikers of IPAs and Stouts. If you come here and the sales manager (one of only a handful employees so far) is working the bar, tell him the Googler from New York sent you. I had the Double Black IPA and the American Red Porter, and a taste of the Dry-Hopped Rhubarb Tart, which was very interesting. I'd like to try all of the others.
Wynkoop Brewing - Gophercon had an event here, so I didn't get the real experience. Based on the beers I had, I'd come back to try this brewery during open hours.
Great Divide - I love Great Divide beers. Chocolate Oak Aged Yeti is my favorite. But, Great Divide is really well distributed in New York, so there was nothing on tap that I hadn't had. The space was nice and industrial. If you are unfamiliar with Great Divide beer, come here. If you are well-acquainted, skip this and head straight to Black Shirt up the street.
Crema Coffee House - Get up early to get a delicious breakfast burrito and an expertly made cappuccino. Come here at all costs._
Boulder Eats
Twisted Pine Brewing - Their beer is really tasty, as is their food. They have a good amount of outdoor seating. I'd definitely come back. Billy's Chilies, a chili beer, is not to be missed, as is the Big Shot Espresso Stout. Get a sampler and a pizza, I recommend the Omnivore, but don't burn your mouth as I did.
Upslope Brewing - Upslope has two taproom operations in the Boulder area. I went to their newer facility, which is really gorgeous, if a bit. Get a sampling of 4oz pours of whatever suits your fancy.
West Flanders Brewing - The main quality of this place is that they are a centrally-located brewery that serves decent burgers. Enough said.
Spruce Farm & Fish - Located at my hotel, I only had breakfast and dessert here, and I'd definitely come back. This is a farm-to-table concept with reasonable prices and tasty food.
Mountain Sun Brewery - This place is legendary in Boulder, and has been said to give the real Boulder experience: laid back and pleasant. The beer they brew is original and there is something to appease everyone. Sit outside and get a few small pours. If you are into spicy and need calories, the spicy chicken burrito will satiate a few desires.
Avery Brewing - I'm sitting outside here as I write this report. Come here at all costs. Avery produces some great, innovative, off-the-wall beer that I've always appreciated. Their beer menu is humongous: have a lot of small pours of anything that looks attractive. They annotate their menu for beers that are rare and have everything from a 4% pilsner to a 17.22% pumpkin porter. Inside is loud during peak hour, so sit outside until the mosquitos come after sunset, and then move inside. The service can be a bit slow, so have patience, but everyone is very friendly and helpful. Ask the dog owners if you can pet the four-legged friends in attendance.
The Cup - A cafe on Pearl Street, I came here for breakfast before a ride. They serve up good coffee and bagels: get a sausage, egg, and cheese on a bagel.
License No. 1 - A genuine speakeasy beneath the Hotel Boulderado, you have to learn the secret knock to get in. The scene was happening and full of well-dressed youths, some of whom were dancing to the jazz music.
Denver Rides
Lookout Hill - [planned, actual] We only had one day to do a Denver ride, so we chose the twistiest, most uphill one we could find. Lookout Hill was an excellent choice: we rode past the malty smell of the MillerCoors brewery, though the town of Golden, and up the mountainside on a series of switchbacks. The miles between Denver and Golden are unremarkable and a bit of a slog, but we were able to hit a steady 24.5mph pace at some points on the return.
Boulder Rides
I can't even describe how many possible rides there are that interconnect all of the mountain passes, climbs, and descents, so I won't even prescribe routes, other than to mention the specific ones I went on: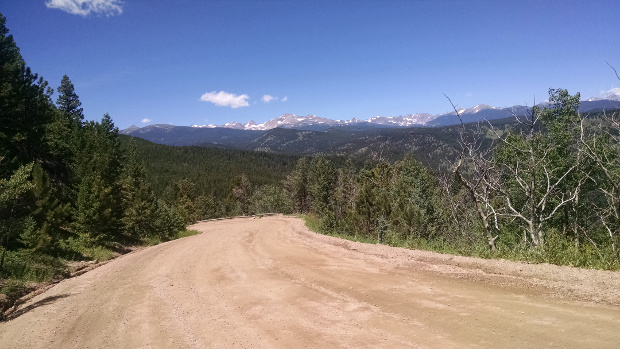 Jamestown to Ward out-and-back: [planned, actual] I planned a pretty epic route based on a really awesome cycling travel company's publish routes. This was a phenomenal ride, principally starting out by leaving Boulder to the north and climbing Lee Hill Drive, having truly phenomenal descent through Lefthand Canyon, arriving at Jamestown only to have an epic, long climb up Overland, which eventually turns into dirt. I continued onto the legendary Peak-to-Peak Highway (which is not a highway at all, aside from it being really, really high up). I met up with a friendly cyclist going the same pace, and I followed him to Ward. Unfortunately, my plans didn't call for me descending into Ward, and then I decided to further descend down the awesome Lefthand Canyon Drive – in the wrong direction. I had to climb back and past Ward to the Peak-to-Peak, and in my tired stupor, I made a left instead of a right, and accidentally turned my ride into an out-and-back.

Gold Hill and Flagstaff: [planned, actual] Feeling that my Northeastern legs were not used to consecutive days of climbing-heavy cycling, I wanted to construct a shorter ride to hit some Boulder mainstays. I chose to string two out-and-backs together. Gold Hill is a mere 10mi away from Boulder – 10mi of the most interesting climbing I've experienced. First is Four Mile Canyon, which even a seasoned beginner can accomplish in the small gear: it was really quite pleasant, and you get the almost all the scenery that a more substantial climb delivers. That turns into Gold Run Road, which is not for the faint hearted: it is a steep dirt road that never ends until passing through the town of Gold Hill. Exiting the town is the most scenic climb I've made, with all of the Colorado Rockies behind you. After a good while, the ascent peters out into a scenic plain, which then turns into an epic descent. The first half of it is steep dirt: use your rear brake going around the hairpin turns at your own risk (you have disk brakes, don't you?). Then it turns into sweet, sweet pavement of the smoothest variety: go as fast as your skills and wits allow. Steep, downhill segments, a few up-and-downs, and a whole lot of turning made this into the most fun I've ever had on a bike: it was truly a "woohoo" moment.

Returning back to town, the Flagstaff climb starts immediately after the return decent finishes. Flagstaff is simply a series of not-impossible hairpin ascents, culminating at a peak lookout park. Traffic here is heavy, as there are lots of car-oriented overlooks; go early if you can, but don't skip this climb just for this factor alone. I would have liked to proceed onto the town Nederland, a considerable climb and distance away, but I knew my legs were not having it. Next time.
Okay, enough for the ride descriptions. People that know my riding style know that I'm not in cycling merely to go fast, as fun as that is. I like the combination of mental endurance trials, physical feedback (aka sore legs), visual stimulus, and experiencing what the locales and the locals have to offer, especially in the culinary sense. I stopped in the following towns:
Jamestown - There is a single store in this town that serves up some phenomenal breakfast options. On my first pass through, I picked up some bananas and banana bread and availed myself to their water container… store the banana bread in your pocket for a mid-ride snack later on… it was worth the weight. On my unexpected return, I figured I'd relish the outdoor seating with the babbling brook nearby, and I got the largest breakfast burrito that has ever been made. "I made a mistake," said the chef, approaching me with a plate of food. "I accidentally made it huge." Watch the cyclists riding by, pet the dogs, and listen to the brook.
Ward - This town has a whole two shops: a general store and an antique shop. Stop in at the Utica Street Market (too remote to have a website, it seems) and order a carefully-made espresso. Sit outside and revel at all of the high-end bikes that pass by while reveling at the big blue open sky. Don't make any wrong turns.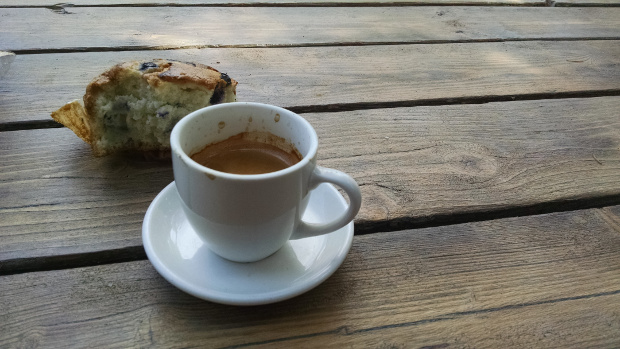 Gold Hill - This town seemingly hasn't changed since the gold rush that created it in the 1850s. Stop at the Gold Hill General Store and Cafe, order an espresso and home-made muffin, and sit outside on their picnic bench. Stare at the blue sky.
As in all of life: talk to the people around you. Figure out how they got there and what drives them. Figure out what you can learn from their experiences.
Cycling Shops
For each of these, definitely peruse the shop for anything you might need. Potentially leave room in your suitcase for a few purchases.
University Cycles, Boulder - This is the best cycling shop I've ever been to, even ousting the astounding River City in Portland. University literally has an army of personnel working the floor: I was waited on by no less than four separate individuals, all making sure I got what I wanted. Rent a high-end bicycle (disk brakes are a must) from here for half of your stay, and then rent a mountain bike for the next half.
Elevation Bicycles Co, Denver - This is a really nice shop that has a good selection of high-end brands, with nice staffers. Definitely rent from them if you're in Denver, or at least stop by.
Hotels
In Denver, I stayed at the Hyatt Regency and Benny stayed at the Grand Hyatt. Both are nice, but the latter is more modern and chic. I'd stay at either again.
In Boulder, I stayed at the Hotel Boulderado. Owing to the fact that they have two adjacent buildings joined by a skybridge, the layout is weird. My room was dark, with one small window. But, overall, it was a nice stay in a very convenient location. They have two on-premises restaurants and a speakeasy. I'd recommend staying here even with those caveats, but I might suggest looking at nearby AirBnB options.
Getting around
Use the B-Cycle public cycling network in both Denver and Boulder. Download the "B-Cycle Now" app, and make an effort to figure out how to transport yourself via their bikes. It is very convenient and speedy, even if figuring out the logistics of how to get where you want to go is cumbersome.
I used Uber in both cities for when the destination was too far for cycling. I was extremely happy with the quality of drivers I enlisted. Each of them had a great story to tell, and fantastic recommendations.
I'm not sure there is a good way to get between Denver and Boulder, considering the distance and the traffic between them. To get from Denver to Boulder, I used Uber, and texted the driver before he arrived to make sure he was cool with driving all the way there, and then I tipped really well knowing he'd have to endure the traffic to Denver.
To get from Boulder to the airport, I used SuperShuttle. I've always been concerned about safety with SuperShuttle, and this ride did not allay my concerns. I might try Green Ride next time.
Don't bother with renting a car. Parking is annoying and the combination of B-Cycle and Uber is cheap.
Known places I didn't get to
Boulder
Nederland - When you get past the initial Flagstaff climb, more climbing awaits between there and the town of Nederland. I would have liked to continue there, but it wasn't in the cards. I have no idea what is there, aside from the fact that many cyclists recommend it.
Boxcar Coffee Roasters - recommended by an Uber driver, they are supposed to have good espresso.
Asher Brewing - Located right around the corner from Avery, Asher deals exclusively in organic brewing. But, the Avery brews are way too high octane to allow for a satisfactory trip to both in one outing.
Denver
Onefold - Supposedly phenomenal good coffee and breakfast burritos.
Breweries: TRVE Brewing (BLACK METAL!!!!), Renegade Brewing, Copper Kettle Brewing, Breckenridge Brewery